Lin Dan: Shy When First Met His Wife
Tencent Sports
|
2012-08-13 00:30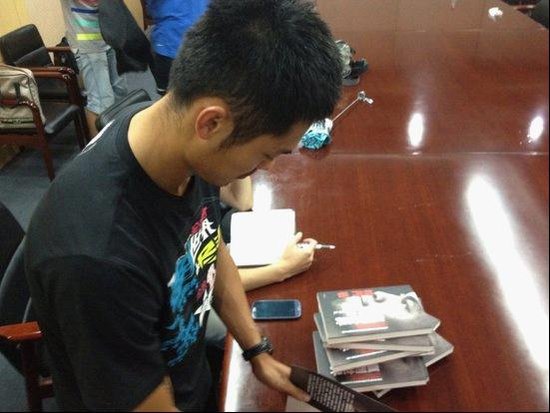 Tencent Sports: After harvesting the gold medal in London Olympics and winning a grand slam victory, Lin Dan had a book signing in Beijing Wangfujing Book Store at 3 p.m. on August 12 to mark the launch of his autobiography Till The End Of The World. Though it was a hot day, fans' enthusiasm was not affected, from the ground floor to the sixth floor, the whole building was crowed with people. Long queue was extended by new comers from the book store to New World, a shopping mall miles away.
The signing session started officially at 3 p.m. During the following two hours, Lin had replied to each request from his fans for a signature. After hundreds of signing, Lin seemed a little bit of tired, he had some water from time to time and talked to the staff nearby, "it's much tiring than playing badminton!" In the season break, Lin had the exclusive interview with Tencent Sports. Talking of his book Till The End Of The World, Lin seemed a bit of literary, quite different from the bold and brave style when super Dan is on the court.
Tencent Sports(Q): Firstly, congratulations to you on wining the gold medal in London Olympics badminton men's singles and achieving a grand slam victory.
Lin(A): Thanks!
Q: OK, since it is a book signing ceremony, let's start our conversation from the book, Till The End Of The World, why this name?
A: I try to make it in a broader sense, as for myself, it goes far beyond the badminton, as for my fans, I hope they can keep making efforts no matter what they do, persistence means a lot.
Q: When I first heard the book name, I thought about a cartoon song, Slam Dunk, which was played during the signing session, does it has any special meaning?
A: Well, when I was a little kid, I used to watch Slum Dunk, but I was not impressed by the ending song. Gradually, I found many things were forgotten with time passing by. Now when I recall back, I usually notice something which was ignored before. Therefore, I think the sentence touches me deeply and the name of the song moves me a lot. I think many people can embark on the way towards their dreams.
Q: Just now, you talked about your childhood and I noticed a picture of yours when you were little, maybe the time you entered the National Team, from the picture, I can see a picture of Jimmy Lin on the wall near your bed, Was Jimmy your idol when you were young?
A: (laughter)No, It's not my bed, may be it's my teammate's, I think so, it can't be my bed.
Q: I noticed that you had many descriptions about Bao Chunlai in your book, you two watched ghost movies together, can you give us more detailed stories?
A: Haha, each athlete has his or her stories, I hope readers can learn something real about me about my growing-up and professional career.
Q: In your book, you also mentioned Taufik Hidayat, your life-long enemy and friend.
A: Many media used to make comparisons between Taufik and me. Actually, I have competed with him for many years in the court, we are no longer rivals, but we turn to like friends. Moreover, we are getting older and older, it's hard to define the relationship between us when we are in the same court, so I cherish my competing with him.
Q: What about Lee Chong Wei? Have you kept contact with him after the match?
A: It's the same, we get along well with each other, he will represent a club in Hangzhou to compete in League matches at the end of this month. Unlike the Olympics and World Tournament, I don't feel much pressure this time. Fans across the country have their own favourite athletes, they will give them their support. As for Lee, he will be much relieved as well. So I hope we can enjoy the game when we have the the match.
Q: There's another person worth of mentioning in your book, Xie Xingfang. We noticed that you used one paragraph to describe her, you had the first training together for about two hours without saying a word. How did you think then?
A: Well, I was shy to speak it out then. I think everyone will have a crush on somebody else, someone is bold enough to tell while others may do not know what to do.
Q: What about your wedding plan?
A: I had been preparing for the Olympics before, so it was my wife who made arrangements. But now, I've got much time and I hope I can make our wedding better.
Q: What about the plan for your future career, especially the plan after your grand slam victory?
A: I need good rest now, besides wedding ceremony, I need to think about how to do next, I must find an exact position for myself, if I play badminton the way I used to be, it will be so hard, I don't want it that way. I hope to find a thing much suitable to me, then when I go back to the court I can be as strict with me as before.
Q: Wish you a promising career and best selling of your books.
A: Thanks.