History Says:Flag Bearer as an Honor is a Competition
Tencent Sports
|
2012-07-26 01:06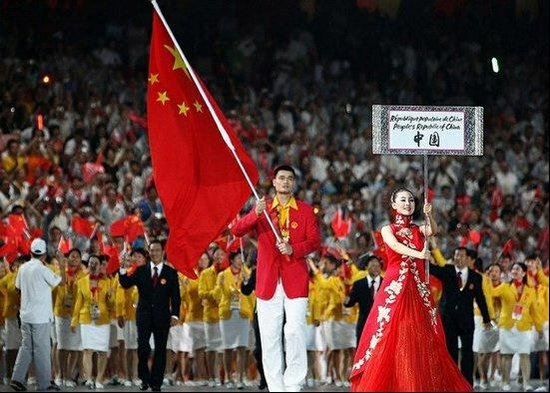 Tencent Sports: Flag bearer is regarded as the icon of every country's Olympic delegation. Candidate for the flag bearer, as result, has been the hot topic leading to the opening of the Games. Flag bearer for China has traditionally selected from Men's basketball team whereas track and field stars are granted such honor for the US Olympic team. Female athletes are making waves at London Olympics by representing their countries. No star athletes will abandon such great honor and opportunity of being under global spotlight.
Men's basketball team bears the great tradition of producing flag bearers.
Since 1984, Chinese Olympic Delegation's appearance at LA Games, all flag bearers have come from men's basketball team. It has become an unscripted tradition. When Chinese Olympic Delegation arrived at Heathrow Airport on 24th, deputy chief of the delegation, Mr.Duan Shijie made it clear that we should follow the tradition this time as well.
Before departure, who will carry Chinese national flag at London Olympics was still shrouded in mystery. Wang Zhizhi, Yi Jianlian,Liu Xiang, Lin Dan, Sun Yang and Li Na emerged as top contenders. However, two basketball players were the favorites. Deputy chief of Chinese Delegation on the day of departure for London gave the criteria for our flag bearer:"Tall and well-built, with brilliance athletic achievement and high-degree of recognition and influence."
Men's basketball team's great tradition started in 1984 when 2.02 meter high center Wang Libing led Chinese Delegation into the Olympic Stadium. At Seoul Olympics, 1988, another outstanding center, Song Tao played the same role. Song, 2.08 meter high,is the first native player to sign contract with NBA(微博)(微博).
At Barcelona Olympics, Song Ligang, a star center, born in 1967, took up the baton and became the third flag bearer from the team. In Atlanta and Sydney Olympics, "legendary warrior", Liu Yudong was awarded with such great honor twice. Yao Ming then became the natural choice at the Athens Olympics and China's home Olympics in 2008.
The reason that men's basketball team is the fertile land producing flag bearers is that compared with athletes in other events, basketball players have natural advantages. They are tall and handsome, and at the opening and closing ceremonies where athletes around the world gather, they, as flag bearers, can better exert imposing presence and image of Chinese delegations.
Chinese basketball players' global recognition has increased substantially since NBA opened door for them. Yao Ming, as flag bearer at previous two Olympics, is a household name. Popular candidate for this Olympics, Wang Zhizhi is the first Asian player admitted into NBA franchise, and he left his footprint in Dallas, LA and Miami. Yi Jianlian is playing in NBA now.
Flag bearers' profile: Yao Ming, tallest and Liu Yudong, most seasoned
At Athens Olympics opening ceremony, Yao Ming, standing at 2.26 meters, became fifth flag bearer in Chinese Olympics history and also the tallest. Yao himself even joked about the longevity of his record, "I believe that it's unprecedented, but whether it can be broken, I have no idea."
As two times flag bearer, Yao MIng retired from injury ahead of plan, and this unfortunate development prevents him from breaking the record held by Liu Yudong, his predecessor. They are tied for the title of most seasoned flag bearer.
Two-meter tall seems the baseline for flag bearer's candidacy. All five flag bearers met the hight requirement, and because of the hight requirement, center and big forward of men's basketball team are the primary choices. Liu Yudong and Song Ligang who are 2-meter high are dwarfed by Yao Ming, of course.
Among the five flag bearers, the youngest is Wang Libing who has the title of "best center in Asia". When he was designated as Chinese Olympic Delegation's flag bearer at LA Games, 1984, he was just 21. Liu Yudong was 26 when he was named flag bearer, the oldest to receive the honor.
All flag bearers are without exception the reigning star of the team. This is the reason for Wang Zhizhi and Yi Jianlian's entrance in the final list. We need to mention one thing here in particular: if Wang Zhizhi were to be chosen, he would have made multiple records. Wang will appear at Olympics for the fourth time and would become the flag bearer who has offered longest service to a team. Becoming flag bearer would be a reward for this veteran and salute for his contribution. This point was echoed by FIBA officials. In addition, Wang Zhizhi would also become the first flag bearer in his 30s. Liu Yudong was 30 when he was chosen again for 2000 Olympics.
Name of the flag bearer Name and year of the Olympics attended Height(meter ) Year of Birth
Wang Li Bing 1984 LA Olympics 2.02 1963
Song Tao 1988 Seoul Olympics 2.08 1965
Song Ligang 1992 Barcelona Olympics 2.00 1967
Liu Yudong 1996 Atlanta Olympics 2.00 1970
Yao Ming 2004 Athens Olympics 2.26 1980
2008 Beijing Olympics
Different selection criteria of other countries
Chinese Olympic Delegation has its own tradition of selecting men's basketball player as flag bearer, as other Olympic powerhouses have their own diverse criteria of selecting their flag bearer.
As track and field superpower, Team USA has named many track and field stars as its flag bearer like Lopez Lomong, a long-distance runner at Beijing Olympics. Track and field athletes were given the honor 14 times in history whereas only one swimmer and one basketball player have been awarded with this distinction. No NBA stars have been named. At Athens Olympics, women's basketball triple gold medalist, Dawn Staley carried the national flag.
Perhaps in order to promote diversity and the melting pot nature of the country, Team USA selected many naturalized athletes as its flag bearer. Lopez Lomong was from Sudan. Olga Fikotov? of Czechoslovakia in 1972 led the US team; the American team at the 1936 Summer Games were led by Berlin-born, highly-regarded gymnast Al Jochim and Irishman Pat McDonald had the honor of being the flag bearer for Team USA AT 1920 and 1924 Olympics.
Our neighbor, South Korea leans toward naming a veteran athlete at its flag bearer. 39-year-old decorated handball player, Yoon Kyung-shin who is called "living fossil" has been named as flag bearer for South Korea. Since 1992 Olympics, he has competed at four Games, having captured four gold medals at international competitions,and without doubt, a well-respected veteran. At Beijing Olympics, Jang Seong-Ho, born in 1975, silver medalist of Judo Men's 100 kg at 2004 Olympics became its flag bearer.
Japanese Olympic Delegation has favored female athletes. Earlier, Japanese Olympic Committee announced legendary wrestler Saori Yoshida to lead Japanese delegation at London Olympics. She will launch attack on the third Olympic gold of her shining career and has become the sixth female flag bearer in Japanese Olympic history. At Beijing Olympics, table tennis player Ai Fukuhara, nicknamed China-Dolls who enjoys high popularity both in China and Japan, was chosen.
Canoeing and sailing athletes used to be the top contenders for Argentina Olympic Team's flag bearer. Among them, Carlos Espinola is the great sailor who carried his country's flag at 2000 and 2004 Olympics.However, Manu Ginobili, NBA star, broke the tradition becoming flag bearer at Beijing Olympics beating hot ticket, Canoeing legend, Fernandez. At London Olympics, this special honor goes to 35-year-old Luciana Aymar, four-time Olympic veteran, female field hockey star player.
"Female athletes hold half of the sky" is the main character of this upcoming Olympics, also an unprecedented spectacle. At French Open, Maria Sharapova could not hold back her excitement after being chosen at flag bearer for Russia. She disclosed this news on twitter. She will be the first female flag bearer for Team Russia in history. Shortly afterward, her tennis rival Agnieszka Radwanska acknowledged that she had been named flag bearer for Poland. For the first time, Saudi Arabia, Qatar and Brunei will send female athletes to attend Olympics making London Games the first one in history that all member countries have dispatched female athletes to compete in.
Flag bearer for South Africa has always been the selection of inspiration force. Mokgadi Caster Semenya , the most controversial figure, suspected of being bi-sexual, has been nominated as its flag bearer. At 2008 Beijing Olympics, Natalie du Toit, one of two Paralympians to compete in Beijing, received that honor. Besides, "Blade Runner", South African sprint runner Oscar Pistorius is also a favorite for his country at London Olympics.